Spirit World Warrior (異界士 Ikaishi) are people whose job it is to subdue the Youmu. Their abilities are passed on by blood.[1]
The spirit world warriors society is like a government for the spirit world. It watches over important events, registers spirit world warriors, makes and keeps laws, and maintains records of youmu.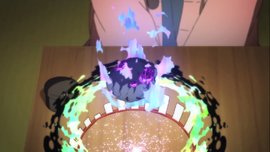 Appraisers are persons officially recognized by the Spirit World Warrior Society to accept youmu stones and designate monetary values to them based on the type of youmu slain. Due to this ability, appraisers are often sought after by Spirit World Warriors who want to earn an income from defeating youmu in battle.
One known method of appraising a youmu stone is by careful observation of the stone against an array of spells set up by the appraiser. Here, the appraiser determines the value of the stone depending on the youmu source and various other factors. According to Ayaka Shindou, a known appraiser, the changes in levels of aggression does not affect the value of the youmu — a fact that annoys Spirit World Warriors who were unfortunate to encounter youmu which are more aggressive than normal.[2]
List of Spirit World Warriors
[
edit
|
edit source
]
Community content is available under
CC-BY-SA
unless otherwise noted.