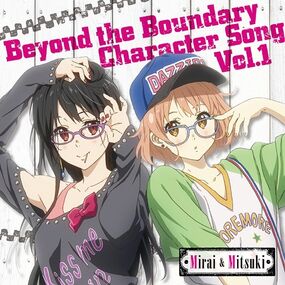 Ordinary Girl's Talk is a song included on the Kyoukai no Kanata - Character Song Vol.1 album. It is sung by Risa Taneda as Mirai Kuriyama and Minori Chihara as Mitsuki Nase.
Tracklist
Edit
Displeasing Diary Performed by Risa Taneda
Because of "S"adness Performed by Chihara Minori
Ordinary Girl's Talk! Performed by Risa Taneda & Chihara Minori
Nantetatte joshikousei desu, nanoni… doushite
Burogu ni tsuzuru no wa fuyukai na DAYS

Iikagen ni enjou tsuitto yamete!
Onna no ko rashii koto kyoumi nai to?

Houkago ni kureepu kaigui shitarishite
Sorenara yappari!
Hai, yappari!
Ichigo kasutaado!

Chotto tanoshinde ii? tatta ichido no seishun!
Meganefechi bakari ni kamatteraremasen yo ne
Imamade zutto dekinakatta you na "Girl's talk!"
Issho ni ne, shitemimashou!

Bungeibu no bushitsu de genkou bakari mitete
Bocchi no fukubuchou to hikikomori DAYS

Tamani wa odekake shimasen?
Onnanoko rashiku zakkaya meguri

Kawaii kachuusha ne, kekkou niau wa yo?
…Okane ga nai desu
Aa, yappari…
Window shopping

Demo ne tanoshii nara, kitto sore de ii no
Zannen sugiru shisucon kamatteru hima nai wa!
Oshare na cafe de kya kya ufufu nante "Girl's talk!"
…Tamani wa ii no kamo

Futsuu no koto dakedo, tokubetsu ni omoeru
Sore tte yappari, sou yappari!
Hitori ja nai kara

Konna "futsuu no onnanoko" mitai na hibi
Akogareru nante ne… dame to omottemashita
Konna fuu ni dareka to baka mitai ni kudaranai
Hanashi de warau nante

Dakara tanoshimimashou, tatta ichido no seishun!
Meganefechi, shisucon… tamani kamatte agete
Imamade zutto dekinakatta you na "Girl's talk!"
Kyou mo mata, issho ni ne!
なんてったって女子高生です、なのに…ど〜して
ブログに綴るのは不愉快なDAYS

いいかげんに炎上ツイートやめて!
女の子らしいこと興味ないの?

放課後にクレープ買い食いしたりして
それならやっぱり
はい、やっぱり!
イチゴカスタード!

ちょっと楽しんでいい?たった一度の青春!
眼鏡フェチばかりに構ってられませんよね
今までずっとできなかったような「Girl's Talk」
一緒にね、してみましょう!

文芸部の部室で原稿ばかりみてて
ぼっちの副部長と引き籠りDAYS

たまにはお出かけしません?
女の子らしく雑貨屋巡り!

可愛いカチューシャね、結構似合うわよ?
…お金がないです
ああ、やっぱり…
ウィンドウショッピング!

でもね楽しいなら、きっとそれでいいの
残念すぎるシスコン、構ってる暇ないわ!
オシャレなカフェでキャッキャウフフなんて「Girl's Talk」
…たまにはいいのかも

普通のことだけど、特別に思える
それって、やっぱり、そうやっぱり!
ひとりじゃないから

こんな「普通の女の子」みたいな日々
憧れるなんてね…ダメと思ってました
こんな風に誰かと馬鹿みたいにくだらない
話で笑うなんて

だから楽しみましょう、たった一度の青春!
眼鏡フェチ、シスコン…たまに構ってあげて
今までずっとできなかったような「Girl's Talk」
今日もまた、一緒にね!
Community content is available under
CC-BY-SA
unless otherwise noted.