Welcome to Kyoukai no Kanata Wiki!
The unofficial wiki for the Kyoukai no Kanata light novels and its anime series adaptation.
We currently have 7,308 edits to 60 articles and 294 images on this wiki.
This is a recently started project, so please help out by adding new articles and editing content.
Kyoukai no Kanata (境界の彼方, lit., "Beyond the Horizon") is a light novel written by Nagomu Torii, with illustrations by Chise Kamoi. The two-volume light novel series was awarded with an honorable mention in the Kyoto Animation Award competition in 2011, and was published by Kyoto Animation between June 2012 and April 2013. An anime adaptation based on the series was announced for October 2013, produced by Kyoto Animation.
---
Akihito Kanbara is a high school student who apparently has a Youmu lineage and a peculiar regenerative ability that exceeds that of a normal human's. In an unexpected encounter, Akihito saves a classmate named Mirai Kuriyama, who was about to jump off the school building. Following this encounter is Akihito's discovery of the world of Youmu and Spirit World Warriors.
Read more...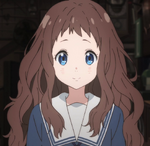 Ai Shindou (新堂 愛 Shindō Ai) is one of the secondary characters of the Kyoukai no Kanata series. She is a cat Youmu who lives with Ayaka at her photo studio. She helps Ayaka with housework and models for photos, among other things.


She often poses a warm and gentle personality with kind intentions and innocent features. She is always supportive of people around her and is trying to go as far as possible for the sake of keeping the environment platonic and calm.
➣ Read more ...